I promise, this is fast and funny
E! Entertainment
, the only pop culture media outlet fabulous enough to have an exclamation point in its name, has reported on perhaps the most appropriately timed celebration of a celebrity's life work in all of history.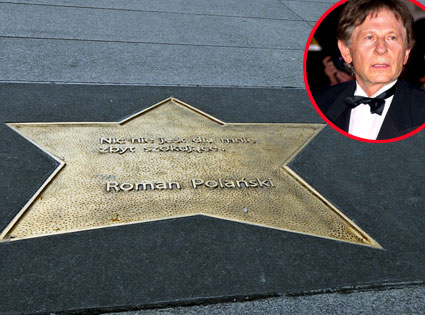 Yeah, that's right, you're looking at the star on the Walk of Fame in Warsaw, Poland, which was unveiled
this week
for director Roman Polanski, who is presumably in prison trying to prevent a Swiss man from doing to him what he did to get arrested 30 years ago. So. Many. Jokes. I'm just going to boil it down to 2, because I'm very busy this morning.
1.) Warsaw, Poland has a Walk of Fame? Who else is on that? The guy who overcame all odds and changed the lightbulb all by himself? (I am, for the record, like 85% Polish...so that hurts and makes me laugh all at the same time).
2.) This is the worst idea since Burger King unveiled their Al Qaeda Angus Burger (with an Osama "Bun" Laden).
Seriously, I could go on for days. Try it yourself at home. It's fun.
Labels: Roman Polanksi star on the walk of fame, Roman polanski, Roman Polanski jokes, walk of fame